Michael's PreCast Concrete
We offer steps with risers starting at 1 riser up to 6 risers. There is the option to add a platform as well. 

Riser Height:  7″high 

Step Tread Depth: 12″

Each step and platform has a broom finish. 

Platform sizes vary from 30″to 48″ depending on the need of the order. 
12″x 12″ x 1 .5″  Smooth
12″x 12″ x 2″ Smooth 
18″ x 18″ x 1.5″ Smooth
18″ x 18″ x 2″ Smooth
12″x 12″ x 1 .5″  
12″x 12″ x 2″
18″ x 18″ x 1.5″ 
18″ x 18″ x 2″ 
24″ x 24″ x 2″ 
18″ x 2″ Smooth
24″ x 2″ Smooth
30″ x 2″ Smooth
36″ x 2″ Smooth 
9″ x 18″ x 2″ Cobble Stone 
18″ x 18″ x 2″ Oak Leaf
18″ x 18″ x 2″ Cobble Stone
18″ x 18″ x 2″  Fern Leaf
18″ x 18″ x 2″ Pebble Stone
18″ x 18″ x 2″ Wood Grain 
18″ x 18″ x 2″ Cobble Stone Radius Pattern
18″ x 18″ x 2″ Cobble Stone Pattern 1/4″ Cut-out
18″ x 2″ Round Oak Leaf 
24″ x 24″ x 2″
24″ x 30″ x 2″
24″ x 32″ x 2″
24″ x 36″ x 2″
24″ x 48″ x 2″
30″ x 30″ x 2″
30″ x 36″ x 2″
32″ x 32″ x 2″
32″ x 42″ x 2″
36″ x 36″ x 2″
36″ x 42″ x 2″
36″ x 48″ x 2″
38″ x 38″ x 2″
40″ x 40″ x 2″
42″ x 42″ x 2″
48″ x 48″ x 2″
48″ x 48″ x 3″
48″ x 48″ x 4″
Parking Bumpers & Sign Post Base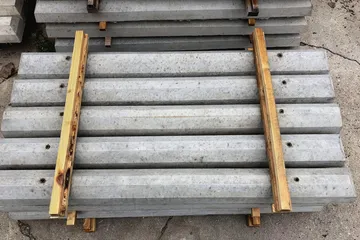 7″ x 5″ x 24″
7″ x 5″ x 36″
7″ x 5″ x 48″
7″ x 5″ x 72″
7″ x 5″ x 84″
7″ x 5″ x 96″
Anchor Pins 16″ long 1/4″ diameter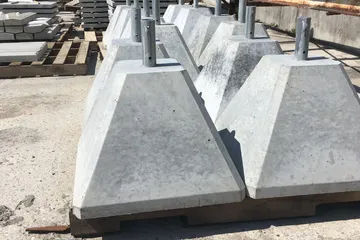 22″ x 22″ x 16″ 
Driveway Marker Half Sphere