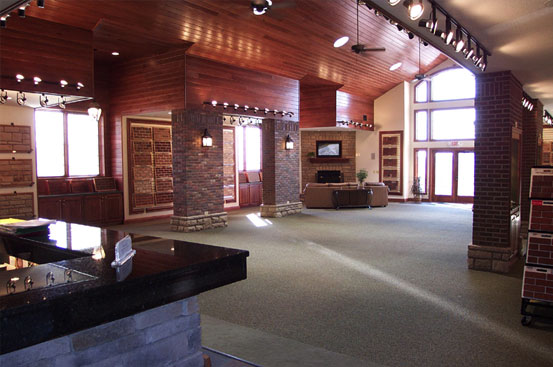 FAMILY OWNED & OPERATED
At Snyder Brick & Block, we work hard to satisfy your needs and we've been doing it for over five generations spanning over seventy years. We are a manufacturer of concrete block and a distributor of quality building products. Founded in 1949 by Milton G. Snyder, Snyder Brick & Block was originally designed to serve the greater Miami Valley area and now encompasses all of southern Ohio. Since its founding, the company has grown to include four manufacturing facilities with six retail stores.
OUR COMMITMENT
Over the years Snyder Brick & Block has remained family owned and operated for over five generations and is currently the only block manufacturing facility remaining in the city of Dayton. Our product line has expanded greatly since we first opened our doors. We no longer are limited only to concrete block but handle such items as brick, masonry tools, fireplace materials, concrete reinforcing steel, epoxy, construction chemicals, mortar, cement, wire mesh, polyethylene film, expansion joint, rigid insulation, patio block, glass block, porcelain tile, cultured stone, natural stone and retaining wall systems. Snyder Brick & Block is a company based on the highest standards of quality and committed to delivering the best possible service. As we grow and expand to stay on top of an ever changing market we will always stay with the tradition that this company was built on.
CORE VALUES
Commitment To Customers: Our customers are our top priority! We make sure everything we do is in their best interest. Our team strives for customer satisfaction and makes a conscious effort to put a smile on our customer's faces when they walk in our door.
Quality: We take pride in all the quality work that is done here as well as the quality products that we sell and market to our customers. We believe that quality DOES make the difference in everything we do.
Team Member Growth & Happiness: We focus on making sure each and every employee is learning and growing throughout their careers with us. We love to take care of our team members and make sure they are happy and smiling. After all, we would not be Snyder Brick & Block without them!
Teamwork: Even though we have many locations, we truly are one big team! It is very crucial that our employees work together in order for our business to run efficiently and effectively.
Our History
Milton G. Snyder started it all when he established Snyder Brick & Block back in 1949. It all began at its first location at 2613 South Dixie Ave (now 1733 Industrial Estates Drive – our hardscapes location). In 1946, M.G. Snyder began making concrete block with a one at-a-time automatic machine. A few years later in 1949, when he incorporated Snyder Concrete Products, he purchased a GoCorp. This was a three at-a-time block machine which was considered very advanced for the time. When Snyder Brick & Block started, one block would cost .15¢ and a bag of rich mortar would cost .75¢. Since then, Snyder Brick & Block has expanded to six locations and is on its fifth generation. Lee Snyder, the current owner, takes pride that the company is still family owned and operated and strongly believes that it will continue to be for years to come.
"It is my vision that Snyder Concrete Products will last another 70 years. Maybe two or three more generations."
Lee Snyder
President
1
First Generation
Milton G. Snyder
2
Second Generation
Bob and Paul Snyder
3
Third Generation
Lee Snyder
4
Fourth Generation
Mark Snyder
5
Fifth Generation
Mitchell Snyder & John Flory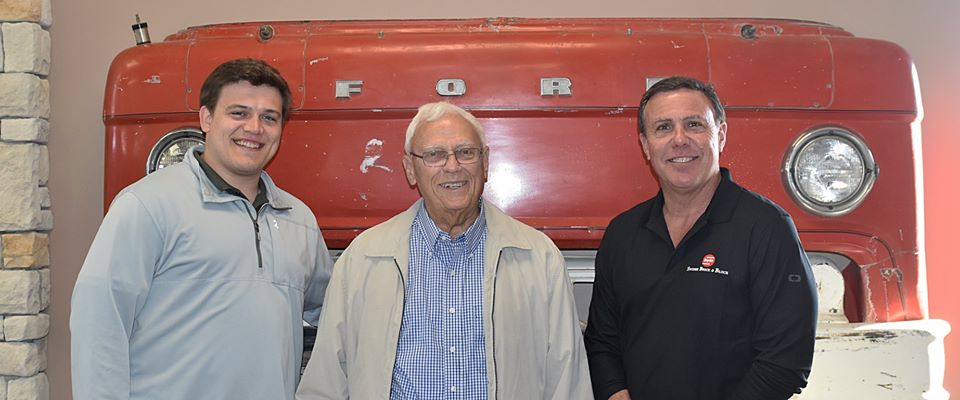 Left to Right : Mitchell Snyder, Lee Snyder, Mark Snyder